What is YouTube Advertising
YouTube advertising, done through (Google Ads), is a way of advertising your video content on YouTube or in search results so you can maximize your user reach. This could be your video playing before a user views another's video or showing up in YouTube search results for people to watch in full.
Types of YouTube Ads
There are six types of YouTube ads:
2- Non-skippable instream ads
1. TrueView Ads
TrueView ads are the skippable ads that appear at the beginning of YouTube videos. They're a great place to get started advertising on YouTube, for a few reasons:
They're versatile
TrueView ads allow you to advertise your products and services with how-to videos, demos, video testimonials and more.
They're low risk

TrueView ads are a cost-effective way to reach a relevant audience. You only pay when the ad has:
Played for 30 seconds or longer (or ended)

Prompted an action from your viewer (like a click)
Because TrueView ads can be skipped after five seconds, you'll rarely waste ad dollars
on completely uninterested audiences.
They reach a wide audience
Remember, YouTube takes Google search history into account when serving ads, so you're essentially combining the audiences of the two biggest search engines on the web.
TrueView ads can appear on other publisher sites in the Display Network, depending on which type of TrueView ad you choose: In-Stream or Discovery.
Now, there are two main types of TrueView ads: in-stream ads and discovery ads. Let's take a closer look at each of them.
TrueView Instream Ads
TrueView in-stream ads play before a viewer's chosen video.
The image below features a TrueView in-stream ad from Unbounce:
In-stream ads also feature a small countdown timer and a link to the advertised site in the bottom left of the screen.
What's more, TrueView in-stream ads have a companion banner ad that's displayed in the right-hand sidebar above the suggested videos list.
TrueView Discovery Ads
TrueView Discovery ads appear within the Youtube search results and in the right-hand sidebar of watch pages above the suggested videos list.
The ads consist of an image thumbnail and up to three lines of text.
The image below shows a TrueView discovery ad for a movie trailer which is displayed above the organic YouTube search results:
Clicking on discovery ads will take users to the YouTube watch page or relevant channel page to view the video.
Why Should You Use YouTube TrueView Ads?
TrueView ads are a great way to reach your target market.
Firstly, they're low-risk.
Remember, you're only charged when viewers opt to watch your entire ad, view it for at least 30 seconds, or interact with the ad in some way.
This is awesome.
Because although 76% of consumers reflexively skip these ads, you can at least be sure your budget is being spent on interested viewers.
Secondly, because TrueView ads are opt-in, you aren't restricted by time limits.
This means that you can experiment with different creative formats such as product demos, testimonials, or how-to videos.
For example, Grammarly has used testimonials and product demos in their TrueView ads to great effect. In fact, a massive 54.4% of their social media traffic comes from the site.
What's more, according to Google, when brands use TrueView, they can see views of existing content increase by up to 500%.
Now, let's check out the other forms of YouTube ads.
2- Non-Skippable In-Stream Ad?
Non-skippable in-stream ads are essentially the same as TrueView in-stream ads except — you guessed it — viewers aren't able to skip them. Because viewers have less control over these ads, they're not considered 'TrueView.'
It's common knowledge that non-skippable ads are unpopular.
In fact, YouTube killed off the 30-second unskippable ad format last year. Today, non-skippable ads must be between 15 and 20 seconds.
The image below shows a non-skippable YouTube ad from Apple:
3. Bumper ads
Bumper ads are the more tolerable version of non-skippable ads, lasting six seconds at most. They appear at the end of YouTube videos, and are paid for on a CPM basis.
Because they're short, bumper ads are ideal for targeting mobile users. They're also a great way to recycle longer content.
Pro tip: Cut down on the "annoying" factor of non-skippable ads by creating a six-second bumper version. Then, re-market to viewers who have seen the non-skippable version to the shorter version. This way, you can reinforce exposure to the brand without leaving viewers frustrated.
If you need inspiration, YouTube has a leaderboard featuring the top 20 bumper ads of the moment based on views, click-through rate, and user creative ratings.
4-YouTube Sponsored Card Ad?
YouTube sponsored cards appear within videos as small call-to-action (CTA) popups.
Sponsored cards are a very unobtrusive form of YouTube advertising. A small 'i' symbol pops up in the upper right-hand corner of a video and when a viewer clicks on it, the card expands.
In the image below, you can see the text that appears when I hover my mouse over the icon.
5- Overlay ads
Overlay ads are perhaps the simplest form of YouTube advertising. These are banner ads that appear along the bottom of videos.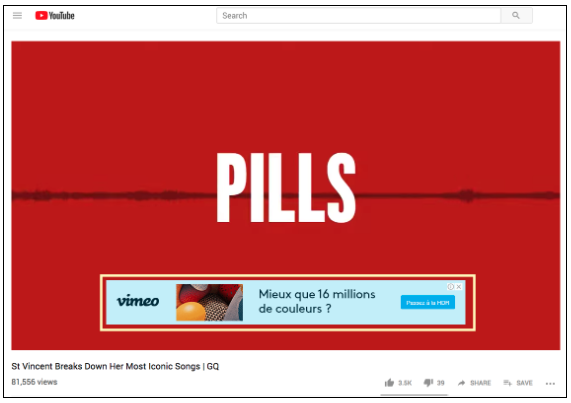 6-Display Ads
Display ads are another simple YouTube advertising format. These ads have been around for a while and appear in the right-hand sidebar above the suggested videos list.